Doña Margarita Roxas de Ayala ( Founder )
"Colegio de la Immaculada Concepcion de la Concordia", known as Concordia College, was founded by a generous and wealthy widow, Doña Margarita Roxas de Ayala in 1868.
Gifted with a vision to provide a Catholic education for the poor and deserving young girls, she converted her three and-a-half hectare villa, the La Concordia Estate in Paco, Manila, into a school.
Attracted by the dedication and devotion of the Hijas de la Caridad, popularly known today as Daughters of Charity, who taught and cared for the poor, the generous widow did not hesitate to request for eight Daughters from Spain. She arranged for the Sisters travel expenses so that they could come over to the Philippines and manage the school.
On May 3, 1868, the first eight Sisters arrived and managed the operation of the school.
Old photo of Concordia College
The school started as a free school, Escuela Pia. With a small enrolment of sixty students, the curriculum emphasized religion, good manners, reading and writing simple arithmetic, culture and arts lie sewing, embroidery, cooking, needlecraft and household work.
The medium of instruction was Spanish. With the Daughters of Charity at the helm, Concordia College continued to prosper
with an upward
enrolment
towards the end of the nineteenth century.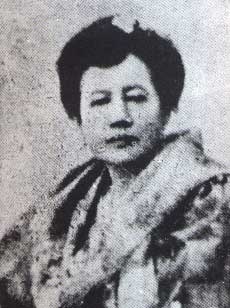 Saturnina Rizal
Soledad Rizal
Olympia Rizal
Among its well known students were Saturnina,Olympia and Soledad sisters of Philippine national hero, Jose Rizal.
Segunda Katigbak
Leonor Rivera
Jose Rizal two lovers are Leonor Rivera and Segunda Katigbak were students of Concordia College. The two ladies became the inspiration behind one of Rizal's fictional characters in his novel Noli Me Tangere and El Filibusterismo which is "Maria Clara". Concordia college was also mentioned in Noli Me Tangere.
The significant periods in the growth and development of the College such as the Philippine Revolution of 1896 and the American era brought about educational reforms.
Concordia College Hymn
Concodia College (present photo)
During this last decade before the year 2000 and thereafter, Concordia College will remain steadfast as the voice and arm of the Catholic Church.
It will continue to address life with the Vincentian Vision - Mission, core values and thrusts inculcated in its students, personnel, parents, alumni, and other lay partners.
The best way on how to improved this ancestral school is to maintain and continue the operation of emphasizing religion so that this kind of catholic school will be devoted to God. , and also have a Good manners and some old operation in this school.
The main purpose is to grow and to be broad the knowledge of every student who are studying to this school. Another factor on how to improved this school is to renovate some facilities that is danger to the students and maintain the importance of this ancestral school and also continue address the Vision and Mission of this school.